Our Calligraphy
The calligraphic image featured on our website was designed for ISITA by Mauritanian calligrapher Mohameden Ahmed Salem in 2018. The Institute's name is written in Arabic in the Sūqī script traditionally used by Tuareg writers and by other groups in the eastern Middle Niger region.
The unique style of wall decoration found in the Mauritanian town of Oulata inspired Ahmed Salem's design of the border. Oualtan women paint exterior and interior walls with natural clay colors mixed with Arabic gum in designs that include nets, wreaths, crowns and decorative ribbons.
Ahmed Salem was one of the curators selected to participate in ISITA's August 2017 workshop, "Working with African Arabic Script Manuscripts," where he also offered instruction in calligraphy (Ahmed Salem is third from left in the photo).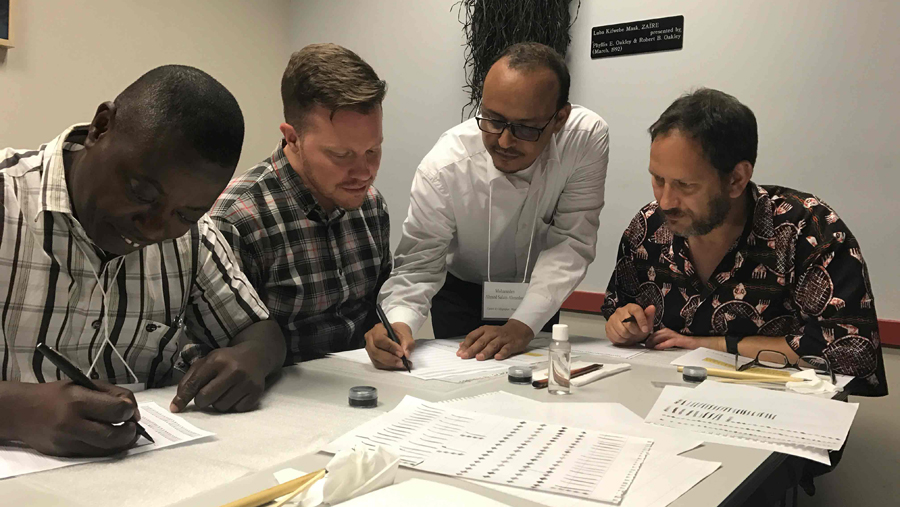 Ahmed Salem adapts motifs from wall decoration for use in books, art panels, and other domains, in order to revive these motifs and give them wider exposure.
"I try to combine decorative elements in new ways that look different from what was customary, without losing the essence and the special appearance that distinguishes the Oulata decorations," explains Ahmed.
About Ahmed Salem
A self-taught calligrapher and Arabic manuscript researcher based in Noukachott, Ahmed Salem also helps to oversee his family's distinctive collection of manuscripts—the Library of Muhammadin 'Abd as-Samad—in Trarza, Mauritania. He has completed several decorated copies of the Holy Qur'an, including the Mauritanian Mushaf (the first Mauritanian printed copy of Qur'an), with a cover and extensive decorations inventively adapted from wall art.
Committed to reviving the calligraphic traditions of West Africa, Ahmed Salem and other calligraphers have created a Mauritanian Association of Arabic Calligraphy and Ornamentation and are establishing an institute for these arts—the first of its kind in Mauritania.