Book Development Workshop
Early Career Scholars of Islam in Africa Book Development Workshop
On May 3, 2019, ISITA held a book development workshop that supported early career scholars of Islam in Africa as they prepared their book manuscripts for submission to a press.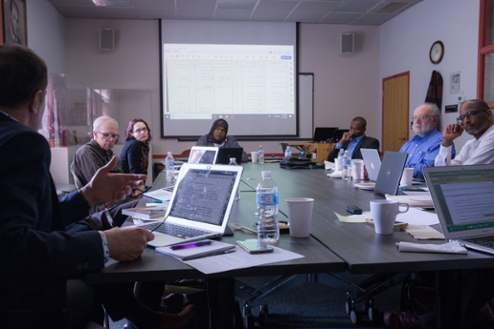 The three scholars, chosen through competition, were as follows:
Sumayya Ahmed, lecturer in Library and Information Science at University College, London-Qatar, whose project, "To the Nation Belong the Archives: The Search for Private Heritage Collections in Morocco," crafts a social history of Moroccan historical manuscripts and archival documents by examining the Hassan II Prize for Manuscripts and Archival Documents and its reception by the Moroccan public since its establishment in 1969;  Suleiman Chembea, lecturer in Religion at Bomet University College, Kenya, whose project, "Competing and Conflicting Power Dynamics in Wafqs in Kenya, 1900-2010,"  examines the development, administration, and use of awqaf (religious endowments) by Kenya's Muslim community from the colonial period to the independence era; and Jeremy Dell, post-doctoral fellow in Modern Intellectual History at Dartmouth College, whose project, "Saving Tradition: Archiving Islam in the Western Sahel," investigates the history of non-Europhone textual practices in the region across the nineteenth and twentieth centuries, considering how the process of preservation has shaped narratives about Arabic manuscripts.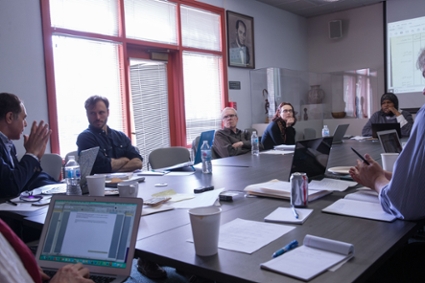 Two discussants were assigned to provide feedback on each manuscript. Discussants were Carl Petry (history, Northwestern), Sean Hanretta (history, Northwestern), Chouki El-Hamel (history, Arizona State University), Elke Stockreiter (history, American University), and Bruce Hall (history, University of California, Berkeley). Robert Launay (anthropology, Northwestern) and Wendell Marsh (Buffett Institute post-doctoral fellow) also contributed.
A presentation by Trevor Perri, Acquisitions Editor at Northwestern University Press addressed best practices in writing book proposals and approaching publishers.