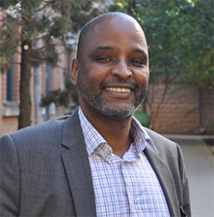 Zekeria Ahmed Salem
Director of ISITA, Associate Professor of Political Science
Zekeria Ahmed Salem (PhD, Lyon) is the director of ISITA and associate professor of political science at Northwestern. His research engages critical debates about religion and politics, especially interconnections between state and religious authority, identity politics, Islamic knowledge and political power in contemporary African societies. Prior to joining Northwestern, he taught political science and African studies for nearly two decades at the University of Nouakchott, Mauritania.
Ahmed Salem's 2013 monograph, Prêcher dans le Désert: Islam, Politique et Changement Social en Mauritanie (Paris, Karthala, with English translation forthcoming) examines major transformations that shaped a new public sphere and changed cultural life in the Islamic Republic of Mauritania. Based on more than twenty years of fieldwork, archival research, life history collection, and close readings of Islamic doctrinal texts and fatwas, Ahmed Salem's research reveals how Mauritanian Muslims across social strata shape their political and religious lives through engagement with available bodies of religious knowledge. Read the review of Prêcher dans le Désert in the New York Review of Books (November 23, 2017 issue). 
In other publications, Salem has examined Islamic preachers in urban settings, elections in Senegal and Mauritania, lawyers and politics, and Mauritania as a "frontier state." He has contributed numerous chapters to edited collections and published articles in the Journal of North African Studies, Politique Africaine, Cahiers d'études africaines, Canadian Journal of African Studies, Nomadic Peoples, Annuaire de l'Afrique du Nord, and L'Ouest Saharien.
Salem's ongoing work includes the Historical Dictionary of Mauritania with coauthor Antonio Pazzanita (under contract with Scarecrow Press), and research projects on new forms of Sufism, public debates over blasphemy, and Muslim public intellectuals in African societies.